I testi sono riportati a partire dall'ultimo pubblicato e mantengono la formatazione proposta dall'autore.
Monte Altino con il Redentore e la catena dei M. Aurunci che coronano il Golfo di Gaeta.
Monte Altino with the Redentore and the mountain chain of the Aurunci mountains that crown the Gulf of Gaeta.
I gabbiani sorvolano il giardino,
recan sulle ali l'alito marino,
sfidan il biancheggiare del maestrale,
tra raffiche di neve e latteo sale,
volano in alto e in cerchi ampi,
affamati, si posano sui campi.
Ulula i mare e dai lontani monti
s'alza un canto dalle sorgive fonti,
di Capodacqua immagino il rio,
ora muto, dell'uomo teme il fio...
Il freddo giunge, annunciata morte,
ogni zolla di terra è più dura e forte.
File di campagne s'aprono spoglie,
del carrubo ecco le prime foglie!
Tace il sentiero di memorie avite,
tra rovi coi primi sbocci e la vite,
esposta ai rigori dell'inverno,
tende braccia nodose d'Averno…
Chiuso è l'Altino, d'Aurunci baluardo,
s'ammanta di neve anche il prunalbo.
Tra fiori in boccio e cristalli di ghiaccio
resta immobile nel gelido abbraccio.
Tace il carrubo con le sue foglie nuove,
tremano al vento ch'or le sommuove.
* In English
MOUNT ALTINO

The seagulls fly over the garden,
they have sea breath on their wings,
challenge the whiteness of the mistral,
between gusts of snow and milky salt,
fly high and in wide circles,
hungry, they settle in the fields.
Howling from the sea and from the distant mountains
a song rises from the spring sources,
of Capodacqua I imagine the river,
now mute, man fears the ...
The cold comes, death announced,
every clod of earth is harder and stronger.
Rows of campaigns open bare,
here are the first leaves of the carob tree!
The path of ancestral memories is silent,
between brambles with the first blossoms and the vine,
exposed to the rigors of winter,
Avernus tends gnarled arms ...
Closed is the Altino, a bastion of Aurunci,
even the prunalbo is covered with snow.
Between blossoming flowers and ice crystals
remains motionless in the icy embrace.
The carob tree with its new leaves is silent,
they tremble in the wind that now stirs them.
By Franca Colozzo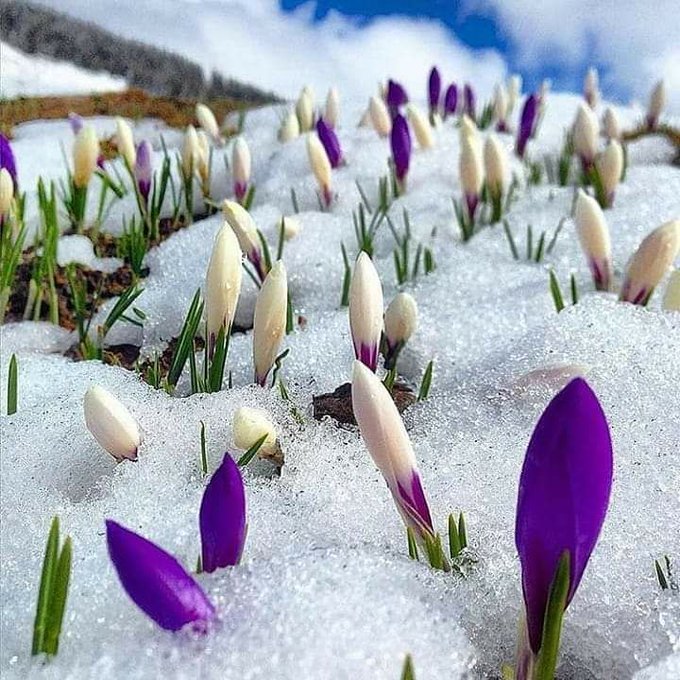 NATALE IN BIANCO
Il battito del tempo è bianco
come questo Natale,
sospeso tra le nubi,
ch'albeggia sui pensieri,
e vola etereo
per bimbi/adulti
alla rincorsa di regali
ormai inattesi.
Natale in bianco,
ieri tra clamori e luci.
Non mi viene altro
da fare che aspettare
un altro Natale.
Ma che non sia meglio
scorgere sull'uscio
un vecchio canuto
che non ama il chiasso?
Già, ch'era solo ieri
quando del suo passo
ho avvertito l'oppressione,
solo ostentazione
tra luci scintillanti.
Ora mi volto e l'uscio
ammicca all'orfanello,
nudo e privo di orpelli.
Christmas in white
The beat of time is white
like this Christmas,
suspended in the clouds,
that dawns on thoughts,
and fly ethereal
for children/adults
who run after gifts
now unexpected.
Yesterday Christmas in white,
amid clamor and lights.
Have I to wait for
another one?
But isn't it better
beyond the door to see
a gray-haired old man
who doesn't like noise?
Yes, it was only yesterday
when of his step
I felt the oppression
and a fake ostentation
amid sparkling lights.
Now I turn and the door
winks at an orphan,
naked and devoid of frills.
By Franca Colozzo
ANIMA NUDA
Amo questa giornata di sole
senza veli,
il vento è venuto
ed ha trascinato via
il mio corpo
come foglia ad ottobre.
So che ti stai chiedendo
della mia anima nuda.
So che il tempo bussa
alle porte della mia età,
ma mi sento giovane
nella mia follia.
So che sei prigioniero
dei tuoi pensieri ora
e non t'importa.
Ma mi sento sola
con le mie paure.
Dimmi per favore
che sei vicino ancora
all'anima mia, amore.
§§§
NACKED SOUL

I love this sunny day
without veil,
the wind has come
and dragged away
my body
as a leaf in October.
I know you are wondering
of my naked soul.
I know time is knocking
at the gates of my age,
but I feel young
in my madness.
I know you are a prisoner
of your thoughts now
and you don't care.
But I feel lonely
with my fears.
Tell me, please
you are still close
to my soul, love.
By Franca Colozzo
Sono onorata di comunicare di aver vinto il secondo premio di DRAGUT 2020 (concorso nazionale di poesia italiana) per la mia poesia: SETTEMBRE
I am honored to communicate to have won the second prize from DRAGUT 2020 (an Italian Poetry national competition) for my poem: SEPTEMBER
.
Autunno nel silenzio delle ore
si rompe in rivoli di malinconia.
Settembre inoltrato segue la scia
dei mesi spesi a crogiolarsi al sole.
Sulla battigia, al posto di conchiglie,
foglie caduche colorano la noia
dei plumbei mesi invernali in arrivo.
Nelle pozze d'acqua salina
pensieri d'eterna giovinezza
accendo come falò d'agosto.
M'abbandono al sopore del vento
e dall'attimo presente afferro
piacevole arsura e turbamento.
Rocce scoscese sui pendii,
da cactus e agavi abitati,
accarezzo col pensiero aprico
prima del calar del sole.
Autumn in the silence of the hours
breaks into streams of melancholy.
Late September follows the trail
of the months spent basking in the sun.
On the shoreline, instead of shells,
deciduous leaves color boredom
of the leaden winter months to come.
In the saltwater pools
thoughts of eternal youth
I light as an August bonfire.
I abandon myself to the drowsiness of the wind
and from the present moment, I grasp
pleasant heat and turmoil.
Craggy rocks on the slopes,
from inhabited cacti and agaves,
I caress with solar thought
before dark comes.
TARDIVA ESTATE

Ritmi la risacca abbandona
sulla riva dilavata e stanca.
S'aprono stanze di silenzi
tra rocce dov'il sol s'attarda
in grappoli di luce.
Annuso di San Martino l'estate
tra vapori di mosto ribollente
e botti di memorie antiche,
dov'il mio pensiero pigro
fluttua in estasi permanente.
Oggi tutto langue intorno,
s'alza un rintocco di campane
verso un cielo assente,
scavato tra le nebbie
di questi tempi amari.
***
LATE SUMMER
Rhythms of undertow leave
on the washed out and weary shore.
Rooms of silence open up
amid rocks where the sun
in clusters of light lingers.
Smells of San Martino's summer
amid vapors of bubbling must
and barrels of ancient memories
where my lazy thought
floats in lasting ecstasy.
Today everything languishes
the tolling of bells arises
towards a so far sky,
dug in the mists
of these bitter times.
By Franca Colozzo